Youth Rejuvenation Facial Qualification
---
Youth Rejuvenation Facial Qualification
£70.00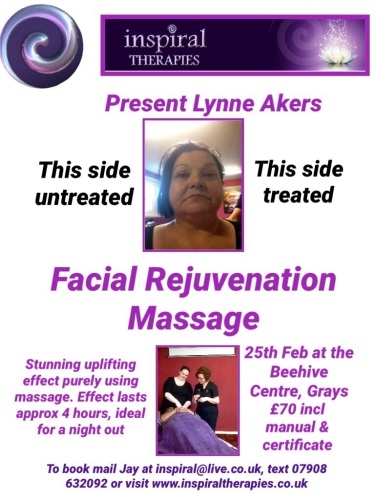 This is a fabulous massage technique which genuinely reduces the appearance of lines and "lifts"the whole face, leaving your client looking relaxed and fresh. The effect (which can be seen in the photo with this advert, where Lynne treated one half only of Jays face) lasts for around 4 hours - just perfect for that special night out !
When word gets out that you are providing this "magical" treatment, your clients will be booking in as fast as they can - this is a very "saleable" treatment.
Your tutor for this session is Lynne Akers
Venue - The Beehive Centre, Grays
Date - Sunday the 29th April 2018
Price - £70, including manual and certificate
book NOW !