An Evening of Readings With Daniel Pitt
---
An Evening of Readings With Daniel Pitt
£45.00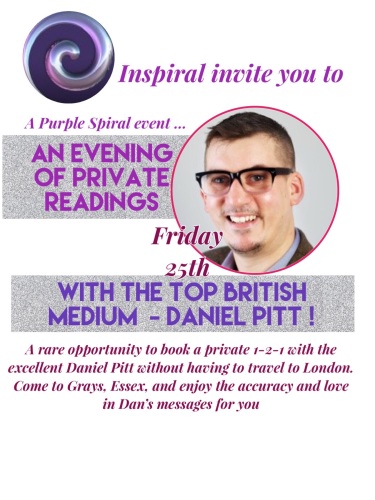 One of Inspirals favourite Mediums is the lovely Daniel Pitt.
Daniel works regularly for us, at evenings, workshops and shows, as well as supporting the Haven as one of our guest Mediums.
In May, we are delighted to offer you the chance of a face to face private reading with Daniel at our venue in a Grays. On Friday the 25th, with the first appointment being at 6.30pm, readings are priced at £45.00 for half an hour.
*Please note - this event was mentioned at Daniels recent workshop with us, so as a result we have only TWO SPACES left.*
Make payment NOW and contact Jay Gage to finalise your time !
See you there !