Swedish Full Body Massage - the Original Therapy Qualification
---
Swedish Full Body Massage - the Original Therapy Qualification
£120.00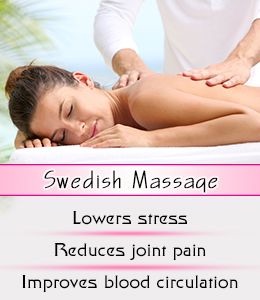 Swedish Full Body Massage is universally recognised as a "typical" massage.
It encapsulates all of the techniques and movements found in other massage disciplines, so in many ways can almost be seen as a "one stop shop" !
If your clients call and simply ask for a massage, this is the one they need.
As you will see, this technique literally covers all areas of the body, and can be the most relaxing and de-stressing treatment to offer your clients.
We have researched the market, and similar courses offering the same in qualifications and time start at £450. Therefore, Inspiral as always, are ethically priced at just £150.00

The various massage techniques are designed to improve your circulation, soothe your muscles and make you feel more relaxed.
Swedish massage uses softer strokes on the bonier and more delicate parts of the body, and stronger strokes where there is thicker muscle coverage. This adjustment of pressure makes it an ideal massage for relaxation.
Besides the calming benefits, Swedish massage is thought to be good for:
easing muscular strain by flushing out toxins
improving circulation by increasing oxygen flow in the blood
helping to keep ligaments and tendons supple
reducing emotional and physical stress.
By offering Swedish Massage, you should greatly improve your client base, and in turn, build a strong foundation for your therapy business.
Book now using this link.
Venue : Romford Therapy Rooms
Date : 22nd Feb
Price : 120.00